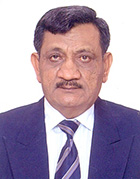 Dr. C. J. Dangaria
Vice-Chancellor
Navsari Agricultural University, Navsari, Gujarat
Dr. C. J. Dangaria is the Vice – Chancellor of Navsari Agricultural University Navsari, Gujarat since 03-01-2015 and has 35 Years of professional experience in Research, Education, Extension Education and administration as Unit Heads.

He has also held coveted posts at various Universities and Institutes. He worked as Director of Research & Dean PG Studies from 01-06-10 to 02-01-2015 in Junagadh Agricultural University, Research Scientist (Pearl Millet) from 10-09-01 to 30-05-10 in Main Pearl Millet Research Station, Jamnagar; Associate Research Scientist (Plant Breeding) 01-10-98 to 09-09-01 Main Pearl Millet Research Station, Jamnagar.

He also worked as Associate Research Scientist in various subjects such as Plant Breeding, Castor-Mustard, Oilseed, Pulse Research, Castor Scheme etc.

He expressed his views to various questions asked by Indiaagronet.com and AgricollegeNews.com to him.